With our partner you are on the right side
Without partners things are impossible. They support us, we support you.
We would like to introduce our partners and invite you to stop by for a visit.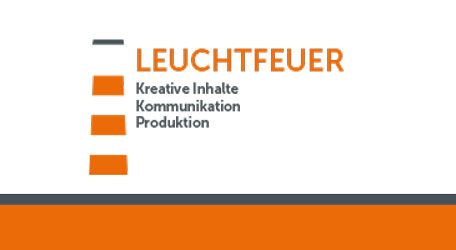 Leuchtfeuer Werbeagentur
Creative Content - Communication - Production
Since 2005, the advertising agency is working for and with its customers. From building up a brand through creative implementation, to production processing, from the logo development, through brochures and flyers and up to websites, we work in a durable and proven network.
Our customers thus always get the performance they really need.
Adress:
An der Foche 5a
D-51503 Rösrath
Telefon: +49 (0) 22 05/8 12 09
info@leuchtfeuer-agentur.de
www.leuchtfeuer-agentur.de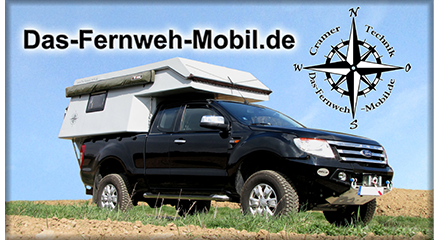 Fernweh-Mobil Cramer technology
The tailings cabin for all Pick-Ups
Since 2008, we manufacture GFK cabins for all common Pick-Ups.
Our pick up cabins are very compact and usable for all-terrain. Above all they are light weight and because of the Fiberglass shell they are extremely robust and offer an enormously generous and bright interior with plenty of storage. The expansion are individually tailored to the needs of our customers.
Adress:
Cramer Technik – Benno Cramer
Settmecker Weg 36
D-57413 Finnentrop-Rönkhausen
Telefon: +49 (0) 23 95 - 21 25 31
cramer-technik@gmx.de
www.das-fernweh-mobil.de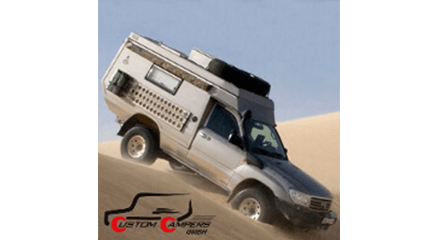 Custom Campers GmbH
Handmade in Warendorf – Germany
Since 1997 we are involved in upgrading and alteration of all-terrain vehicles to special- and expedition vehicles. Most of the base vehicles come from Land Rover and Toyota but also Iveco, Bremach, Mercedes und Volkswagen to our rebuilding program.
The Custom Campers GmbH is a special metal working company, which is allowed to work in car body pressing and vehicle construction according to § 8 of the handicraft regulations. This guaranties very high quality standards and professional work results.
Adress:
Am Hartsteinwerk 2
D-48231 Warendorf
Telefon: +49 (0) 25 81/7 89 88 99
info@custom-campers.de
www.custom-campers.de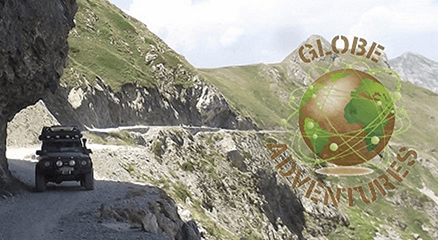 GLOBE ADVENTURES
You're adventurous? Do you like excitement and relaxation? From adventure trekking trips to comfortable hotels. You have a motorized hobby and you want to associate with a holiday that not only exceed your expectations but also are affordable ...
Then you are good at GLOBE ADVENTURES
For all types of 4x4 vehicles
From beginner to experienced rider
Adresse:
info@globe-adventures.com
www.globe-adventures.com
Globe Adventures on Facebook
4x4 Experts
Individual 4x4 - customizing
4x4 Experts is a small company, specialised to modify Offroad Vehicle to indivudal Customer specifications.
We support oure customer on the way to customize their Offroad Vehicle. We are absolute independent to any Producer Company, all Work is done on the practical Experience we made.
Our Service includ: Parts Selling, Workshop Service, Planing your Customized Car, Teaching on Technic, Driving Offroad, Navigation and more, guided Offroad Expeditions and support Service befor Vehicle purchase.
Benefit on oure Experience at your customizing project.
Contact:
Telefon: +49 (0) 86 61-93 900 30
E-Mail: bastian.wollenberg@4x4-experts.de
Internet: 4x4-experts.de
Facebook: www.facebook.com/4x4experts.de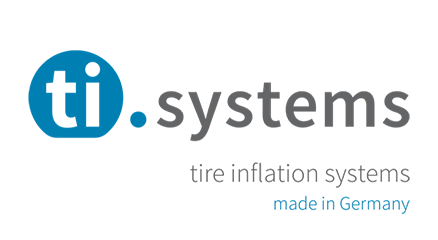 ti.systems GmbH
Located in the tranquil Neusser South, the family-run company ti.systems has developed into one of the world market leaders in the field of tire pressure regulation systems. ti.systems stands for passion and quality. Their mission is to guide all-terrain vehicles safely and comfortably across any terrain. Sand, mud and snow are the battle announced. More than 15,000 vehicles from government and private customers have already been equipped with extremely reliable, precise and fast systems. Progress and progress - thanks to the patented, screw-on tire valves, a must-have for all off-roaders.
Adress:
Welserstr. 1
D-41468 Neuss
Telefon: +49 (0) 21 31/153 18-12
info@ti.systems
www.ti.systems